Collin County Courthouse
10 September 2008
11,601 views
No Comment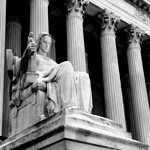 The courthouse is in McKinney, Texas, and fronts on 2100 Bloomdale Road, McKinney, Texas 75071 with free parking at the front of the building.
The District Courts are located in the Collin County Courthouse Building and the District Clerk and main jury room are located on the ground floor. See Court Room Index for each District Court room location located by the escalators.
All of the courts request litigants, attorneys, and support personnel to be appropriately dressed in "Sunday" clothes. No shorts are allowed at anytime. The courthouse strictly enforces a "No Smoking" city ordinance, while in the county's buildings. Pagers and cell phones should be turned off or set not to make an audible noise in the court room. Failure to observe these rules in the courtroom may subject one to delay of proceedings and/or contempt.
Collin County may conduct a search of all persons entering the courthouse using walk through metal detectors and x-ray devices for hand carried items. Be prepared on entering to place keys, cell phones, change, and pagers in tray, if requested. Security personnel may ask you operate your electronic devices to insure they are genuine. Please be reminded that long blade pocket knives and mace like sprays are considered weapons, and may be taken up by the security.
Address: Collin County Courthouse, 2100 Bloomdale Road., McKinney, Texas  75071