Dallas County Juvenile Justice Courthouse
8 September 2008
9,782 views
No Comment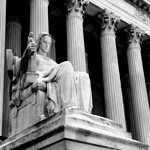 The Henry Wade Juvenile Justice Center is located at 2600 Lone Star Drive, Dallas, TX, 75212. Ground level parking is free, with one entrance from parking lot to building on north side of building. The facility is located on I-30 (Old Turnpike) west of downtown. Driving west from downtown you will want to take the Hampton exit; the exit ramp will divide three-ways, take the middle ramp marked "to Westmoreland". After stopping at a four way intersection, continue on service road to near the top of hill, note on right you will be passing building with high fence and barb wire. Turn right on Terre Colony at next intersection, as the building surrounded from freeway with fence and wire is the Juvenile Detention Center.
Drivers not familiar with west Dallas area or the old turnpike in the area of Hampton Road, may want to leave early or take a test drive trip on the weekend before. The Juvenile Justice Center is a three story brick structure. All courtrooms are located on the third floor. Detention center visitation is located on the first floor.
All of the courts request litigants, attorneys, and support personnel to be appropriately dressed in "Sunday" clothes. No shorts are allowed at anytime. The courthouse strictly enforces a "No Smoking" city ordinance, while in the county's buildings. Pagers and cell phones should be turned off or set not to make an audible noise in the court room. Failure to observe these rules in the courtroom may subject one to delay of proceedings and/or contempt. No children are allowed inside the courtroom.
Dallas County conducts a search of all persons entering the courthouse using walk through metal detectors and x-ray devices for hand carried items. Be prepared on entering to place keys, cell phones, change, and pagers in trays provided. Security personnel may ask you operate your electronic devices to insure they are genuine. Please be reminded that long blade pocket knives and mace like sprays are considered weapons, and may be taken up by the security.
Address:  Henry Wade Juvenile Justice Center, 2600 Lone Star Dr, Dallas, Texas  75212